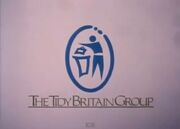 The Tidy Britain Group is a British campaign run by the Keep Britain Tidy environmental charity, which is part funded by the UK goverment.
The majority of their campaigning is around the issue of litter. They have been using "Keep Britain Tidy" as their slogan for almost fifty years. They describe their mission as being "To create effective action by our targeted groups to achieve a sustained improvement in local environmental quality and reduce anti-social behaviour. The organisation is head quartered in Wigan.
The slogan was showen at the end of every episode of Stoppit And Tidyup.