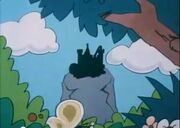 Large Rock
(or
Go And Play
's Rock) is a location found in the land of
Do As Your Told
, and the place where Go And Play can usually be found.
Appearance:Edit
It is largest rock in the land of Do As Your Tolad and can be seen towering over many trees. Light grey in colour with a flatvery top, Go And Play is often seen sitting atop it playing with his many toys. How he gets up there is a mystery.
Location:Edit
The Large Rock is somewhere between Tidyup's House and the Vally Of The Sit Downs. Possible in the centre of Do As Your Told.