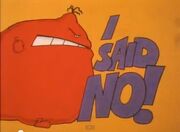 I Said No! is the sixth episode of the series and was first broadcast on the 17th October 1988.
Synopsis:Edit
It's the Day of the Great Gherkin Feast and everybody is out collecting gherkins. But what's that coming over the hill...?
To Be Added...
Episode Info:Edit
First appearance of Don't Do That!, Sayplease, Saythankyou and Take Care.
Ad blocker interference detected!
Wikia is a free-to-use site that makes money from advertising. We have a modified experience for viewers using ad blockers

Wikia is not accessible if you've made further modifications. Remove the custom ad blocker rule(s) and the page will load as expected.